Mainstage School of Dance 
 Classes Now Enrolling for Fall. Enroll online or at the studio M-W 6-8pm.

Please click to view full size: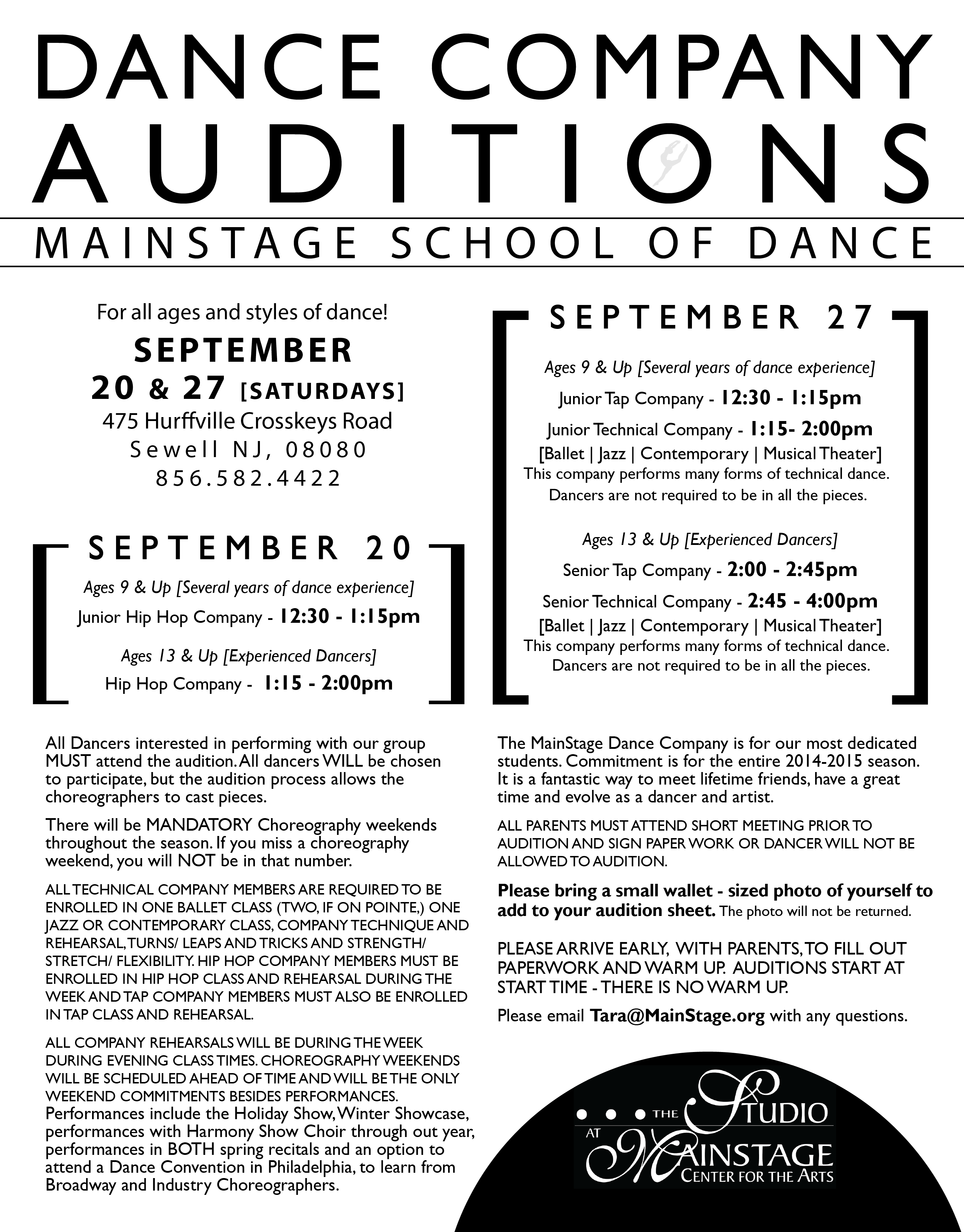 Our program will not only give all students a basic understanding of the discipline of the art of dance but will allow them to develop their skills as dancers to a level where they can go on to pursue their interest in the artistic community of the real world.
Like the Studio of Dance on Facebook: 

CLASS DESCRIPTIONS
MUSICAL THEATER PRODUCTION (MTP) – NEW CLASS FORMAT! 13 WEEKS EACH OF SINGING, DANCING AND ACTING – AGE LEVELS INCLUDE BROADWAY BABIES, KIDZ IN THE BIZ AND BROADWAY BOUND. BECOME WELL ROUNDED IN MUSICAL THEATER. RECITAL PIECE WILL INCLUDE SINGING W/MICS, ACTING AND DANCE.
MUSICAL THEATER DANCE – THIS CLASS TEACHES BASIC JAZZ TECHNIQUE MIXED WITH CHARACTER PERFORMANCE AND STAGE PRESENCE USED IN MUSICAL THEATER. CHARACTER HEELS SHOULD BE WORN.
PRINCESS PRE-DANCE – PRE-BALLET WITH A PRINCESS FLARE. BALLET TECHNIQUE IS TAUGHT IS THIS FUN, IMAGINATIVE CLASS, GAUGED TO INSPIRE CREATIVITY WHILE LEARNING BASIC BALLET MOVEMENTS.
TUTU'S AND TAPS – BASIC BALLET AND TAP MOVEMENTS ARE TAUGHT THROUGH A FUN CREATIVE ENVIRONMENT, USING PROPS, GAMES AND IMAGINATION.
CREATIVE MOVEMENT- FOR OUR YOUNGEST DANCERS, THIS CLASS USES IMAGINATION, PROPS AND TUMBLING TO EXPLORE THE BODY AND ITS MOVEMENTS THROUGH SPACE.
TURNS/ LEAPS AND TRICKS - LEARN BEGINNER THROUGH ADVANCED TURNS AND LEAPS, PROPER TECHNIQUE, FORM AND PLACEMENT. BASIC ACRO SKILLS ARE ALSO TAUGHT IN THIS MUST HAVE CLASS FOR ANY SERIOUS DANCER.
STRENGTH/ STRETCH AND FLEXIBILITY- BALANCE THE BODY AND BECOME A WELL ROUNDED DANCER IN A CLASS MEANT TO CHALLENGE ALL LEVELS OF DANCERS TO BECOME STRONGER AND MORE FLEXIBLE. BALANCE AND FLEXIBILITY TRICKS ARE ALSO TAUGHT IN THE CLASS.
TECHNIQUE – THIS IS A CLASS DESIGNED FOR DANCERS WANTING TO ACCELERATE THIER PROGRESS. A MIX OF ALL STYLES, ACROSS THE FLOOR AND FLOOR BARRE ARE INCORPORATED TO DIVERSIFY AND STRENGTHEN THE DANCERS TECHNIQUE. THIS CLASS DOES NOT DO A PIECE IN THE SPRING RECITAL.
CLASS REQUIREMENTS
ALL STUDENTS ON POINTE MUST TAKE 2 BALLET CLASSES A WEEK PLUS A POINTE CLASS. (NO EXCEPTIONS) ALL CONTEMPORARY STUDENTS MUST BE ENROLLED IN A BALLET CLASS OR HAD AT LEAST 2 YEARS PREVIOUS BALLET TRAINING. ALL TURNS/ LEAPS/ TRICKS STUDENTS MUST ALSO BE ENROLLED IN A BALLET OR JAZZ CLASS.
ALL TECHNICAL COMPANY MEMBERS ARE REQUIRED TO TAKE ONE BALLET CLASS (2 IF ON POINTE,) ONE JAZZ OR CONTEMPORARY CLASS, COMPANY TECHNIQUE AND REHEARSAL, TURNS/ LEAPS AND TRICKS AND STRENGTH/ STRETCH/ FLEXIBILITY.
ADVANCED CLASSES ARE BY TEACHER/ DIRECTOR APPROVAL ONLY. STUDENTS NOT IN PROPER DANCE ATTIRE WILL NOT BE ALLOWED TO PARTICIPATE IN CLASS.
DRESS CODE
BALLET- LEOTARD AND PINK OR BLACK TIGHTS. BALLET SKIRT, BALLET SWEATER AND LEGG WARMERS ARE ACCEPTABLE. PINK BALLET SHOES. HAIR IN A SECURED BUN. NO SHORTS, T-SHIRTS OR BAGGY CLOTHES.
JAZZ/ TAP/ CONTEMPORARY- LEOTARD, BIKE SHORTS, SPORTS BRA OR TANK TOP. PINK, BLACK OR TAN TIGHTS. FORM FITTING JAZZ PANTS MAY ALSO BE WORN. JAZZ, LYRICAL OR TAP SHOES. PLEASE NO BAGGY CLOTHES OR SWEATS IN CLASS. HAIR MUST BE SECURED BACK FROM FACE.
For more information contact
Tara Page- Artistic/Company Director - tara@mainstage.org
Nancy Fiscella- Business Manager - nancy@mainstage.org
Or Call – (856) 582-4422
SCHOOL OF DANCE
Cherry Tree Crossing Shopping Center 475 Hurffville Cross Keys Road Sewell, NJ 08080 856-582-4422