Mainstage School of Dance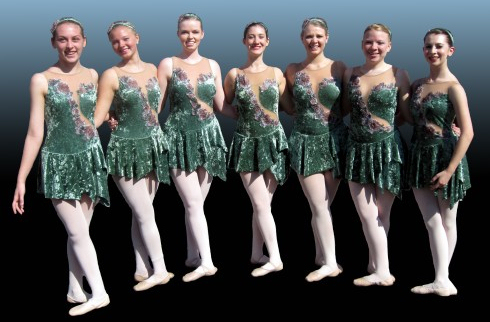 Our program will not only give all students a basic understanding of the discipline of the art of dance but will allow them to develop their skills as dancers to a level where they can go on to pursue their interest in the artistic community of the real world.
** SUMMER CLASSES NOW ENROLLING **
2012 – 2013 Classes
Early Education Dance Classes 
All classes will participate in the end of the year recital. 
Age 3/4 Intro to Ballet and Creative Dance:  Dancers must be age 3 or potty trained to join this class.  45min class that introduces beginning fundamentals of ballet as well as gross motor skills, all while using imagery to keep your dancer having fun!
Age 4/5 Tap-Ballet Combo: Class is split into two 30min sections in Ballet and Tap.  Dancers will learn beginner fundamentals of Tap, including how to count to music and beginner tap dance steps.  Ballet class will focus on stretching and perfecting your dancers gross motor skills as well as beginner ballet steps.
Age 5/6 Tap-Ballet Combo:  Essentially "part 2 "to the age 4/5 class.  Dancers will continue to build on ballet and tap steps, as well as gross motor skills, and knowing the difference between Right and Left Side.
Age 7-8 Tap-Jazz Combo: Class is split into two 30min sections in Tap and Jazz.  Students will learn basic jazz steps and combine steps to make short combinations.  The tap portion of class will expand upon beginner knowledge of terminology and ready dancers for a full hour class in each discipline for age 9.
Ages 9-18 Dance Classes
Ballet-  Dancers will learn the fundamentals of Ballet Dance technique.  This includes proper anatomical alignment, strength and flexibility.  Ballet is danced to classical musical and terminology is in French.
Pointe- This class is for advanced ballet students only.  Teachers will place students into this class as they see they are ready.  Point work involves extensive strength in the feet, ankles, knees and hips.
Tap-  MAINSTAGE now offers classical tap dance as well as grounded "hoofing" style, which is more contemporary.  Tap focuses on syncopation of the feet to specific rhythms.  Tap dance can be performed in silence and is also performed to several styles of music.
Jazz-  Dancers will learn the fundamentals of classical Jazz Dance Technique.  While working on strength and flexibility, dancers will also learn how to jump and turn.  Jazz dance is performed to several styles of music.
Modern-  Modern dance encompasses forms of ballet and jazz.  Modern is danced bare feet, and to drum sounds or music of the teachers choice.  Dancers will learn elements of floor work, improvisation and choreography.
Contemporary-  New to hit the dance world over the past 5 years contemporary dance focuses more on dancers learning stylistic choreography.  Contemporary dance teaches dancers how to emote on stage and tell a story through movement.
Hip Hop-  Dancers will learn how to Pop, Lock, and Break Dance.  Hip Hop dance uses isolations and grounded dancing.  Hip Hop is typically danced in sneakers to Rap and Pop music.
Broadway-  Musical Theater dance class.  Students will learn Musical Theater Dance terminology and combinations to some of the most famous Broadway Musicals of our time!
Kids in the Biz-  Students will learn Musical Theater dance styles as well as how to sing and dance at the same time.  This class focuses on showmanship, audition preparation and presentation.
All dance classes will be held in our Sewell Studio at Cherry Tree Center, 475 Hurfville Cross Keys Road, Sewell, NJ  08080
For more information contact
Jennifer or Thomas Hanner
856-582-4422