Mainstage Center for the Arts partners with Glassboro's Academy of Performing Arts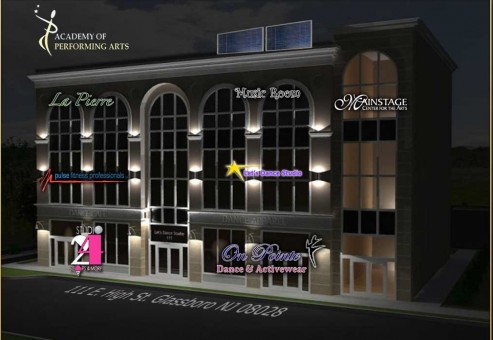 When two sets of business partners formed two different organizations, both focused on enriching their South Jersey communities and nurturing students through the performing arts back in the 1980's, no one knew what the future would hold. The first, Let's Dance began in 1986 in Glassboro as the fruition of an idea shared by Kathy Woodside and Kim Bartolomeo. The second, Mainstage Center for the Arts (MCA), was founded in 1989 in Gloucester Township by Ed Fiscella and Joe Bretschneider, grown from a request by students in the Gloucester Township School District. Over the years, both organizations flourished. Today, they announce a partnership, in which MCA will teach acting classes at Glassboro's Academy of Performing Arts, which is owned by Woodside, Bartolomeo, and Woodside's husband, Scott.
The Let's Dance owners moved into the new arts center at 111 E. High Street one year ago. Its state-of- the-art facility currently houses Let's Dance, which serves 500 students annually and offers tap, jazz, ballet, pointe, hoofing, lyrical, Irish step, hip hop, clogging, combination classes and other areas of study; LaPierre Ballroom Dance Studio; The Resonance School of Music, which provides voice and musical instrument lessons; On Pointe Dance and Activity Wear retail store; Pulse Fitness Professionals; and the Studio 24 Scoops and More Café.
"We've sure come a long way since we opened 26 years ago offering dance to 35 students. As the years passed, we began offering many forms of dance and moved to more suitable locations. Then, when we had the opportunity to build and run this beautiful facility here, working with other like-minded individuals who provide performing arts and fitness education, we jumped at it," said Woodside.
"We asked Mainstage to partner with us because we felt that we really needed drama to round out the program. And, they have a really great reputation as a leader in performing arts education in South Jersey. Also, the arts is one of the first places schools began cutting during the recession. We want to make sure that the opportunity exists for kids who are interested. Mainstage is committed to that," said Woodside.
This is not the first connection Woodside has had with Mainstage. Anne Marie Weaver, MCA's Special Projects Director and acting instructor, is also the drama director at Glassboro High School. Many years ago, Woodside choreographed a show there that Weaver directed. In addition, Ed Fiscella, MCA's Producing Artistic Director, and Woodside once judged a performing arts contest together.
"I'm so pleased to have the opportunity to have a professional association with Kathy once again," said Weaver. "My own children took dance classes with her and Kim back in their early days. They have the same philosophy of caring and nurturing for children as we do at Mainstage."
"And, Mainstage is honored to join together with the Academy of Performing Arts, an important part of the revitalization efforts for downtown Glassboro," added Fiscella. "It's a perfect satellite location for us. Though our home base has always been and will continue to be
in Gloucester Township, as a regional performing arts center, we believe it's important for us to branch out into satellite locations."
In addition to Weaver, who has been an integral part of MCA's Summer Stage since its inception 24 years ago and its long-time acting instructor, Christina Forshey will teach acting classes for Mainstage at the Academy of Performing Arts. Forshey holds a B.A. in Theatre Arts from Liberty University and is a certified teacher of theatre, having taught and directed theatre programs across New Jersey, Pennsylvania, Florida and Virginia.
Mainstage will begin providing acting classes for children ages four through high school at Glassboro's Academy of Performing Arts this fall on Tuesdays, Wednesdays, and Saturdays. For more information about the Academy of Performing Arts in Glassboro, visit http:// glassboroperformingarts.com/ or call (856) 881-0467. For more information about Mainstage Center for the Arts, visit www.mainstage.org. or call (856) 227-3091.