The Young Americans 2011
The Young Americans Return in the Fall of 2011.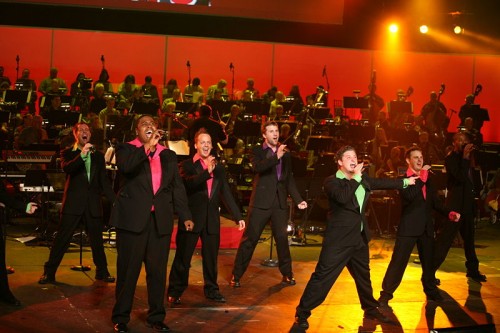 The Young Americans Return in the Fall of 2011
Read Here to see what all of the excitement is about
and join us when they return in 2011
The Young Americans, who four times before took South Jersey by storm, return in November 2011! These 40 talented performers will bring the newest version of their National Music Outreach Tour to Mainstage Center for the Arts on November 10, 11 and 12. In the fall of '05, over 350 Mainstage registrants sang and danced their way through this impressive three day performance workshop in voice, dance, and all aspects of performing arts. The event was capped off by a wonderfully entertaining two-hour public show by both our kids and the Young Americans.
This year's workshop will be from November 10- 12 and will concentrate on voice, dance, and performance techniques under the helpful eyes of the Young Americans and their staff. The workshops and performance will be held at Timber Creek Regional High School, in Erial, NJ.
Demand for this year's Young Americans National Music Outreach Tour promises to be great. Registration is only $85 for this incredible experience (Performance T-shirt not included). Any family interested in providing a home stay for a Young American for the three days, can contact Anne Marie Weaver at amweaver@mainstage.org to receive information about this rewarding opportunity.
For Program Registrants:
Parent Letter
Program Ad Form
YA Photo & Video Release Form
YA Homestay Form
Other Information: