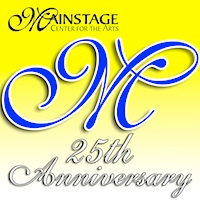 When Summer Stage Children's theatre opened the curtains to its first show in 1989, co-founder and producing artistic director, Ed Fiscella, of Washington Township, did not even dare to dream that 116 productions later, Summer Stage would celebrate its 25th Season.
"Summer Stage began out of a request from students who enjoyed their middle school drama program.  That first year, we had 65 campers and nine staff. Since then, we've grown into Mainstage Center for the Arts, which serves over 1,000 children each year, employs a staff of nearly 100, and presents year-round programs for every segment of the community. As we've grown, we've never forgotten that our roots are in Summer Stage Children's Theatre. That program continues to shine. This year, as we celebrate our 25th Anniversary, Summer Stage promises to be one of our finest. We have excellent new shows, a creative and dedicated staff, and a wonderful group of middle school and high school students who love to put on a show. The fun they have on stage is quite evident to audience members," said Fiscella.
Mainstage's 25th anniversary season includes: School House Rock, Live!; Cinderella, G2K; The Little Mermaid, Jr.; and Magic Up Our Sleeves. It kicks off July 17 – 19 when the Emmy-award winning pop culture phenomenon, School House Rock, Live!, teaches a whole new generation to "Unpack your Adjectives" and "Do the Circulation." The production is sponsored by Bowman & Company. Then it's off to the enchanted kingdom where mice speak, pumpkins turn into stagecoaches and a perfectly-fit glass slipper signifies true love for Cinderella and prince charming in Cinderella G2K. This shortened adaptation of Rogers and Hammerstein's enchanting production runs July 24-26. Next, audiences will travel from the palace to the sea for adventure with Ariel, Flounder, Sebastian and friends in the Little Mermaid, Jr., sponsored by Beneficial Bank. The season concludes August 7 -9 with Magic Up Our Sleeve, an exciting, high-energy musical revue featuring many well-known numbers performed throughout the years at Summer Stage. This production is sponsored by Harry Morgan, D. C.
            Instead of its traditional evening production of a classical musical, Mainstage will present the 25th Anniversary Show, a musical revue featuring current Summer Stagers, and alumni from throughout the years. This show runs July 27, 7:30 p.m. and July 28, 2 p.m.
Shaun Leavey, of Berlin, started off as a Summer Stager, moved on to the directing team while in college, and continued directing after he began his career as a teacher.  He is looking forward to participating in the anniversary show.
"When I started at Mainstage, I realized the huge feeling of community that exuded from its program.  The 'community' feeling that I had attained was actually that of FAMILY.  Mainstage is a family – one of life's greatest gifts," said Leavey.  "I am very much looking forward to the upcoming anniversary show with my Mainstage family.  It will be a great experience to have 25 years of alumni, staff, volunteers, and current campers come together to perform some of their favorite songs, medleys, and dances. I hope that all my friends from my generation, all the campers that I have directed, and all the alumni who had guided me for years can come back to take part in this spectacular showcase!"
In addition to the Children's Theatre and Mainstage Anniversary shows , Kids Stuff (entering second and third grade) and Apprentice campers (entering  fourth and fifth grades), will each present their own shows. Kids Stuff's first session performance is July 20 and its second session performance is August 10, while the Apprentice production is August 3.Then, Video Film Production students will present their original short films in a Film Premier, Friday, August  9 at 7:30 p.m.  The final Summer Stage performance will feature participants of the Mainstage Dance Project who have spent the summer studying various styles of dance, Sunday, August 11, 7:30 p.m.
"We certainly hope that many members of the South Jersey community will come out to see our shows, and help us celebrate our 25th anniversary in grand fashion," said Fiscella.
Ticket prices for Children's Theatre productions and most other performances are $9 for children/senior citizens and $10 for adults. Tickets for the 25th Anniversary Show are $18/$21 for adults, $15 for senior citizens, and $12 students 18 and under.  For tickets, visitwww.mainstage.org, or 856-302-6485.