Celebrate the Circle of Life as the Lion King Jr. Takes the Spotlight July 19 – 21 - Celebrate the Circle of Life as the Lion King Jr. Takes the Spotlight July 19 - 21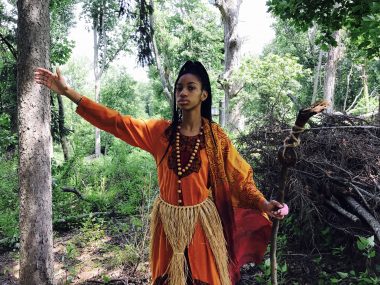 Gather at Pride Rock with Mufasa, King of the Lions, Queen Sarabi, Rafiki, the wise, old mandrill, and the animals of the Pridelands for the presentation of Simba, Mufasa and Sarabi's newborn cub in the LION KING, JR. This lively stage adaption of the Academy Award-winning Disney film, the Lion KING,JR, is presented by Summer Stage Children's Theatre July 19-21 at Camden County College's Dennis Flyer Theatre.
Starting with the presentation and blessing by Rafiki (Jade Wesley of Glassboro), audiences will follow the adventures of lion cub Simba (Collin Corriveau of Plainsboro with Jared Colan as young Simba) as he grows and struggles to accept his destiny as king.
"I like that I get to go on a journey of self-discover in this role," said Corriveau. "It's an emotionally heavy role, but there are light-hearted moments. My friends in the cast are making it so much fun. We're like a big family."
Simba runs away from Sarabi (Monica Thomas of Sicklerville) and his pride after his evil uncle Scar (Vilmi Roselli of Sewell) causes a tragedy that takes the life of Mufasa (Fyar Kabia of Atco). Those left behind include his best friend, Nala (Corinne Palacio of Blackwood and Jessie Gollin of Cherry Hill as Young Nala), Nala's mother, Sarafina (Emily Williams of Sicklerville), and ZaZu (Courtney LeMasney of Sicklerville), the hornbill who serves Mufasa. Lost in the desert, Simba befriends two unlikely companions, Timon (Alison Maselek of Sewell) and Pumbaa (Ryan McDermott of Erial. His new friends teach him to live "worry-free" for years in their jungle home until Nala finds them while looking to save the Pridelands. Simba learns that his home has been ravaged by hyenas under Scar's rule. Simba must find the courage to confront Scar and save the Pridelands.
"Nala's one of the best female roles in Disney. She's strong, powerful, and independent. I'm so excited to be portraying her," said Palacio.
Kabia, who has often been cast in evil roles, said the role of Mufasa has special meaning to him. "Mufasa is very respected as a father and leader of the pride. I'm grateful for this opportunity and honored to play such an important character in my last year of Summer Stage.
As far as the evil role in this show, Roselli is thrilled to be playing Scar. "The first Broadway show I ever saw was the Lion King. I just loved how sarcastic Scar was. It's always been a dream role of mine."
With music and lyrics by Tim Rice and Elton John, Book by Roger Allers and Irene Mechci, the LION KING, JR. includes many of the beloved songs from the movie and Broadway production, including: "Circle of Life," "I Just Can't Wait to be King," "Be Prepared," "Hakuna Matata," "Can You Feel the Love Tonight,"  "He Lives in You," and more. The Broadway production won six Tony Awards, including Best Musical It was directed by Julie Taymor, the first woman to receive a Tony Award for Best Director of a Musical.
The Summer Stage production is directed by Francine Odri, of Lumberton.
"I have the greatest respect for Julie Taymor. It's been an honor to be able to create our own version of The Lion King while respecting her original concept and vision, said Odri. "It has been such an exciting challenge to bring another new show to Summer Stage with the Lion King. It is a story I've loved since childhood. The music is so powerful, and its such a visually complex and beautiful show that all ages will enjoy. We've felt some intense emotions during our rehearsals as we explore this amazing story and we hope the audience will feel the power of the show as well!"
THE LION KING, JR, runs July 19th and 20th , 7:30 pm and July 21, 10:30 amin the fully accessible Dennis Flyer Theatre, Camden County College, 200 College Drive, Blackwood, NJ. The Children's Theatre season also includes ELF, JR,  July 26-28, and BROADWAY FOR KIDS, August 2-4. The July 20and 26 performances will be ASL interpreted. Ticket prices are $12 for ages 12 and above and $10 for students under 12.  To purchase tickets visit www.mainstage.org or call (856) 227-3091.   
              In addition to the Children's Theatre Season, MCA will present its annual summer Mainstage production, Grease on July 22, 28, and 29, 7:30 pm and July 23, 2 p.m. The Summer Stage Apprentice program for fourth and fifth graders will present The Jungle Book Kids and The Aristocats Kids on August 6th. Also the Video Film Production students will present their own original short films in a Film Premier, Friday, August 4 at 7:30 p.m.