Audition Notice: To Kill A Mockingbird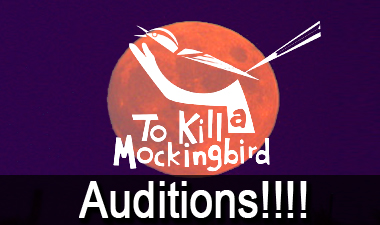 AUDITION NOTICE
Mainstage Center for the Arts, in Blackwood, NJ announces auditions for a Winter 2019 production of
TO KILL A MOCKINGBIRD
A Drama adapted by Christopher Sergel, based on the novel by Harper Lee 
This is a non-equity production.
Looking for Children and Adults for age-appropriate casting
AUDITION DATE
Sunday, September 23, 2018
1:30 pm – children's roles only     6 pm – Adult roles
Mainstage Center for the Arts, Performing Arts Academy
27 S. Black Horse Pike, Blackwood, NJ 08012
(enter through rear door top of ramp)
PERFORMANCE DATES
Thursday and Friday, February 7 & 8, 2019 - 9:30 am
Friday and Saturday, February 8 & 9, 2019 – 7:00 pm
Sunday, February 10, 2019 – 2 pm
Dennis Flyer Theatre, Camden County College
200 College Drive, Blackwood, NJ 08012
DIRECTORS
Please contact the directors with any questions:
Marge Triplo (mtriplo@hotmail.com)
 Nick Zaccaria (zmail1@comcast.net)
ABOUT THE PLAY
The place is Maycomb, Alabama, in the Great Depression years of the 1930s. Momentous events unfold through the eyes of ten-year-old Scout Finch, growing up in a close-knit neighborhood with her older brother Jem and their summertime visitor, Dill.  When their father, Atticus Finch, a well-respected lawyer, mounts a vigorous and compelling case for the defense of Tom Robinson, a poor black man accused of the rape of a young white girl, an idyllic world of childhood is changed forever. A compelling, deeply moving story told with warmth and humor. To Kill a Mockingbird is now considered an American masterpiece about the power of childhood innocence, morality, and love.
Audition Preparation
NO MONOLOGUES NECESSARY:
COLD READINGS FROM THE SCRIPT
Available Roles
CHILDREN'S ROLES
Jean Louise Finch (Scout) – Caucasian- Age 9-11 –She is smart, insightful, independent, and forthright with a strong sense of justice. Articulate, and a tomboy, who looks up to her father and believes in the goodness of people.
Jeremy Finch (Jem) – Caucasian – Age 11-13 – Scout's brother, who is decisive, bold, quick to act, opinionated, stubborn, athletic and brave. Works to understand his non-conventional father.
Charles Baker Harris (Dill) – Caucasian – Age 10-12 – He is outgoing, talkative, adventurous, with an active imagination, sensitive and rather lonely and wise beyond his years, who is befriended by Scout and Jem.
Howard Cunningham, Jr. – Caucasian – Age 10-13 – A classmate of Jem's, who is the son of a farmer and is opinionated, aggressive and bigoted.
ADULT ROLES
Calpurnia – African-American- Age 30-40 –  She works as the housekeeper for the Finches. Smart, strong, outspoken, political, with a strong moral center, who is protective of the children. She operates as a conduit between the black and white worlds of Maycomb.
Arthur Radley (Boo) – Caucasian – Age 30-40 – A recluse, who has become the subject of much speculation and wild rumors. He has a haunted quality but is a profoundly kind spirit. Physically imposing but quiet and extremely sensitive.
Judge Taylor – Caucasian – Age 40-60 – A good, sensible jurist who manages a strict courtroom and who is dignified and fair.
Bob Ewell – Caucasian – Age 30-40 – He is an evil, short-tempered, ignorant, bigoted, alcoholic, who feels cheated by the world. He is the villain of the play, and shows and acts it. He is Mayella's father.
Mayella Ewell – Caucasian – Age 18-21 – She is the daughter of Bob Ewell and is uneducated and takes care of her many younger siblings. Mayella is abused by her father and is a lonely, belligerent girl who accuses Tom Robinson of rape.
Walter Cunningham, Sr. – Caucasian – Age 30-40 – A poor farmer, who initially pays Finch for some legal work with farm products, but then turns against him in leading a lynch mob to the jail to kill Tom Robinson.  
Nathan Radley – Caucasian – Age 30-40 – Boo's brother and member of the Ewell gang. He is an uneducated bigot who is easily led.
Extras – African American and Caucasian – Male and Female – Age 20-50 - Townspeople, courtroom participants, and members of Bob Ewell's gang.  Some are speaking roles and some are non-speaking roles.
These Roles have been cast:
Atticus Finch (Role is Cast) – A small-town lawyer in Maycomb, Alabama in the 1930s.
Tom Robinson (Role is Cast) – He is a field hand who is hardworking, serious and ethical, but is falsely accused of rape by Mayella Ewell.
Maudie Atkins (Role is Cast) – Friend and cheerful neighbor of the Finches.
Stephanie Crawford (Role is Cast) – The town gossip, who is funny and highly opinionated.
Mrs. Dubose (Role is Cast) –An irascible and unhappy woman, who speaks cruelly to Scout and Jem.
Sheriff Heck Tate  (Role is Cast) – He is Maycomb's town sheriff.
Horace Gilmer (Role is Cast) – Prosecuting attorney with the soul of a politician; ambitious and shrewd.
Reverend Sykes (Role is Cast) – An imposing and competent leader of the black community.
REHEARSAL INFORMATION
The read-thru and some selected scene rehearsals will begin in mid to late October. After consultation with the cast, we intend to set up a specific rehearsal schedule, including weekday evenings and Sunday afternoon or evening rehearsals.