Disney Journeys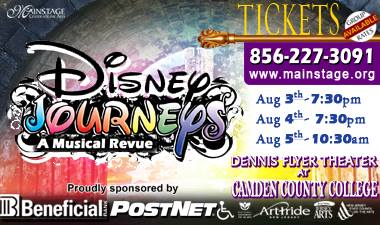 Disney Journeys, a Musical Revue, allows the audience to experience the journey taken by some of their favorite Disney characters from Frozen, Beauty and the Beast, and Pocahontas. This musical revue treats audiences to an exciting mix of songs and dance presented by a cast of nearly 200. Performances takes place August 3-5 and are sponsored by Beneficial Bank and Post Net, Sicklerville.
"With fantastic numbers from popular Disney shows, this production will delight audiences of all ages," said Anne Marie Weaver, Mainstage Center for the Arts' Special Projects Director. Disney Journeys, a Musical Revue features the casts who appeared in each of the three previous shows of the 2016 Summer Stage's Children's Theatre program.

This production runs August 3 and 4 at 7:30 pm; and Friday, August 5 at 10:30 am, Lincoln Hall, Dennis Flyer Theatre, Camden County College, Blackwood, NJ. Ticket prices are $10 for seniors/children 12 and under and $11 for general tickets. To purchase, visit www.mainstage.org or call (856) 227-3091.