Harmony Show Choir will hold Open Auditions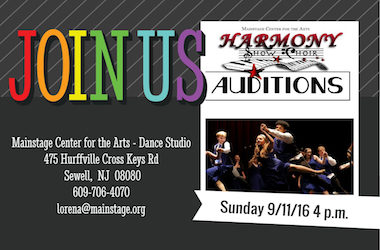 Mainstage Center for the Arts is proud to announce open auditions for the Harmony Show Choir.
The Harmony Show Choir, is an audition-based performance show choir from Mainstage Center for the Arts, in Gloucester Township, NJ. The choir consists of 40 singer/dancers of high school age from the Southern New Jersey area.
Auditions will take place at the Mainstage School of Dance, Cherry Tree Crossing Shopping Center, 475 Hurffville Cross Keys Road, Sewell, NJ 08080 on Sunday, September 11, at 4:00 PM. Come prepared to sing and dance.
The Harmony Show Choir acts as ambassadors for Mainstage Center for the Arts with an array of performance opportunities throughout the community and beyond. Over the past six seasons, the Harmony Show Choir has delighted audiences in Honolulu Hawaii, Disney World, Universal Studios, The Philadelphia Thanksgiving Day Parade, Ocean City First Night, The Wildwoods Boardwalk, Nashville and Gatlinburg, Tennessee, along with many local festivals and events. For the past two seasons, The Harmony Show Choir has performed on the Vocal Ovation Tour, a show choir extravaganza touring large venues throughout the State of New Jersey. In the Summer of 2017 Harmony Show Choir will once again be returning to Disney World and Universal Studios, Orlando.
Students selected to be a part of this talented group will have to opportunity to fine-tune their craft with  intensive instruction that includes voice and dance training. The Harmony Show Choir runs year 'round and rehearses every Sunday evening from 4:30 pm to 8:30 pm.
For more information please e-mail Lorena@mainstage.org.
The Harmony Show Choir is led by a professional staff of artists including: Jack Hill (Music Director), Heather Grasso (Dance Director), Kate Scharf (choreographer) Lorena Melcher (Company Manager), Ed Fiscella (Artistic Director).