Hawaiian Slack Key Guitar Festival at Mainstage Center for the Arts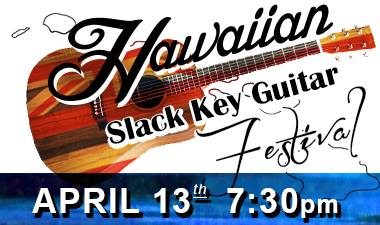 Hawaiians are famous for sharing their islands' riches -- the incredible beaches, the dazzling reefs, the torch-lit luaus, etc. -- but for generations islanders held back one treasure for themselves alone. Their secret pastime? Slack key guitar. Now, after years of obscurity -- the first slack key recording wasn't made until 1947 -- an amazing musical showcase celebrates both this unique style and its gifted practitioners, the Hawaiian Slack Key Guitar Festival. Featuring four prominent Hawaiian guitarists and two local artists, the festival has been dubbed a "Must See" event by Acoustic Guitar. Simply put: If you haven't heard the guitar played in this ancient Hawaiian style, you haven't heard the full potential of one of the world's most versatile instruments. Experience it yourself when the Festival brings the Aloha Spirit to the Dennis Flyer Theater.
After 32 years of success in Hawaii, the Hawaiian Slack Key Guitar Festival comes to New Jersey for a concert at the Dennis Flyer Theater at Camden County College located at 200 College Drive in Blackwood, NJ 08012. The festival is coming off three sold out shows in Portland, Oregon; Eugene, Oregon and Seattle, Washington.
 Presented by the Mainstage Center For The Arts, the festival will feature 4 of Hawaii's prominent artists in the genre (Stephen Inglis, Michael Keale, Blayne Ahsing, and Ikaika Brown) along with 2 local artists in the genre (Andy Wang and The Aloha Boys). The festival has been dubbed 1 of 50 "Must See" events in America today by Acoustic Guitar Magazine. There are 6 of these festivals in Hawaii (one on each of the islands and 3 on Oahu) and many more on the continent (California, Oregon, Washington, Virginia, etc). Slack Key Guitar is a 186 year old guitar art form that began in Hawaii around 1830 and has evolved over the decades. Today, Slack Key can also be found in Asia and Europe as well. The festival started in Honolulu in 1982 as a tribute to one of Hawaii's iconic slack key guitar musicians—Gabby Pahinui. For more information on the slack key guitar or the festival you can visit www.slackkeyfestival.com
Tickets range from $20.00 - $35.00 and can be bought by calling 855-936-2467 Ext. 3 or visiting www.mainstage.org. Don't missed what many guitar experts have called "The Last Great Guitar Tradition In The World Today!"
Melodic island music with uncommon tunings and finger picking by Hawaii's finest players

Blayne Ahsing released his debut album "Young, Old Soul" in 2015, which earned him the 2016 Nā Hōkū Hanohano Award (Hawaiʻi's GRAMMY® Award) for Most Promising Artist.
Michael Keale has entertained at the Royal Hawaiian Hotel and Marriott's Moana Terrace in Waikīkī. He has also shared the stage with his cousins Izrael and Skippy Kamakawiwo'ole, Uncle Moe Keale, Dennis Kamakahi, Melveen Leed, Martin Pahinui, Cyril Pahinui, and George Kuo, just to name a few. Michael continues to share his aloha, capturing the hearts of visitors and kama'āina alike at the Kaua'i Coast Resort's Hukilau Lānai, and Hanalei's Tahiti Nui Lounge.
Stephen Inglis, the versatile guitarist and singer-songwriter, Nā Hōkū Hanohano and Hawai'i Music Award winner and GRAMMY® nominee best known for his prowess with Hawaiian slack key guitar, has released his seventh solo album. Learning You By Heart, released June 21, 2015, paints the most complete
picture to date of the depth of Stephen's talents. His love of many forms of American roots music shine throughout, with the heart of Hawaiian slack key still beating in time. The album's 13 original songs include four co-written with the award-winning and world renowned author, historian and filmmaker Gavan Daws. Legendary duo Tuck and Patti appear as guest artists and producers on the track, "Don't Postpone Joy."
Ikaika Brown and his father, Kevin, are famous as Maui's "father-son slack key duo", performing together for over 20 years. In 2006 they contributed to the Grammy nominated compilation CD, Hawaiian Slack Key Kings Volume 1and then once again to Volume 2, which was both Grammy nominated and also a Na Hoku Hanohano Award winner for Best Compilation in 2009.
Producer and bass player Chris Lau is a 7-time Grammy nominee who co-produced acclaimed album Hawaiian Slack Key Kings (2008).


The Aloha Boys Born and raised in Hawai'i and transplanted to the Washington D.C. area to pursue careers, the Aloha Boys, Glen Hirabayashi, Isaac Ho'opi'i and Irv Queja - met in 1996 while playing music for their children at Halau O 'Aulani, a school of Hawai'ian culture, in the Washington, D.C. area. A special and exciting bond grew musically among the Aloha Boys, who love to kanikapila or play an acoustic down-home, backyard-style Hawai'ian music, a style which includes everything from the very traditional to contemporary songs and styles. They all sing lead and backing vocals. Their voices blend in a nahenahe (soft pleasant) style. 

Bill Wynne's 

 first love is Hawaiian falsetto singing. In 2005,

Bill

won the
Aloha Festivals Falsetto Contest and a Hula Records recording
contract.  Since then,

Bill

has performed at such various places as
the Halekulani Hotel with Jeff Au Hoy and Keola Chan and Chiko's with

Keao Costa and Hale Seabury-Akaka.  And he has had the honor of
sitting in with his musical heroes - such as Genoa Keawe, Mahi Beamer,
Richard Ho'opi'i, and Jerry Santos. And he has appeared on the Pakele Live TV series - broadcast around the world via the internet - twice.

After years of study,

Bill

possesses the uncanny ability to identify
legends of slack key, steel guitar, and 'ukulele by ear. 

Bill

has put this rare skill and his vast collection of Hawaiian music to use by creating the 24 hour-a-day Hawaiian music radio station "Ho`olohe Hou Radio" at Live365..         
  Thursday, April 13 2017    7:30 pm
           Tickets: $20 - $35