Jazz Legend Teddy Royal in Concert
 

The  Teddy Royal Trio

Teddy Royal might just be the king of smooth jazz guitarists. Long one of the most distinguished sidemen and session players in the business -- he was Fats Domino's lead guitarist for 30 years and has recorded with the Neville Brothers, Lou Rawls, Patti LaBelle and countless others -- Royal has recently stepped out into the spotlight himself, with a style of playing that's constantly inventive while forever smooth. Now, on the heels of the release of his latest CD Serenade, the musician fans call "The Secret Storm" will appear live as a part of a trio with Gregory McDonald (percussion), and Dan Kostelnik (organ), with special guest, Ron Olender (Saxophone). Experience one of the finest fixtures of the New Orleans music scene during this intimate engagement at the Dennis Flyer Theater. 
Versatile guitarist and composer Theodore 'Teddy' Royal has made a significant contribution to the music scene of New Orleans during his various extended sojourns there over three and a half decades.
"Teddy Royal is a great guitarist. We (the Hearts of Stone) brought him to Motown to record with us. Teddy was with us for 10 years. We knew good talent, but I was never one to hold a young talent back, and we knew that Teddy was on to bigger things. We hated to see him go." - John Myers, lead singer for Motown's HEARTS OF STONE
 Fats Domino's lead guitarist for 30 years, he has also written and recorded with the Neville Brothers, Lou Rawls, and Patti LaBelle. Teddy's newest CD "Serenade" was just released in January 2015. Although he spent much of his multifaceted career in the background, playing a strong supporting role in many different situations, Teddy Royal has recently begun to make a name for himself and earn the respect he is due.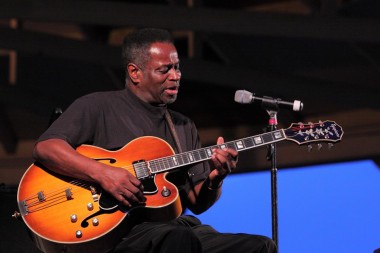 By the early 1980s, Fats began playing fewer concerts, freeing up Teddy to form a jazz group and do some touring on his own. Relocating to Chicago to expand his horizons, he played with Koko Taylor's band for a spell in 1982, but continued to follow his jazz muse, gigging in the North and on the East Coast with his quartet or trio. Chicago was also where Teddy found the large Epiphone hollow-body electric guitar he uses to this day; and it was the perfect fit for his developing jazz style, heavily influenced by Wes Montgomery's finger picked octave soloing. Through Brother Jack McDuff's wife, Doll, who worked for the Ambassador Talent Agency in Chicago, Teddy got booked to do several well-received Wes Montgomery tribute performances in 1984 and 1985. She also took him to a Southside jazz club called The Other Side where he started sitting in with the jazz combo, led by organist Jon Logan, that played weekends there. Teddy was soon asked to join Logan's group and received more valuable jazz ensemble schooling right on the bandstand. Often on those gigs, various giants of the genre such as Jimmy Smith or Arnett Cobb would come into the always hopping joint late at night and sit in with the band; and those close encounters further stretched the guitarist's boundaries.
Teddy had begun writing his own jazz compositions while based in Chicago, recording some there and later in New Orleans. By the mid-1990s, his first CD, Morning Groove, was released in England, where his new manager was based; and he was poised to begin making a name for himself overseas.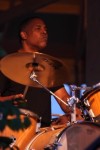 Gregory McDonald (percussion) started drumming professionally at the age of 16. He attended Settlement Music School studying percussion and music theory. By the age of 22, Gregory began performing and touring both nationally and internationally with numerous established jazz musicians and bands. Gregory has been performing and recording with both local and national jazz artists for more than 25 years.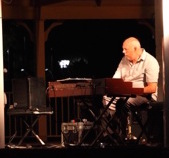 Dan Kostelnik (organ) has worked with Eddie Gladden, Buddy Terry, Leo Johnson, Grachan Moncur, Bill Saxton, Gerald and Louis Hayes, Eric Alexander, Jim Rotundi, Jeannie Bryson, Pat Tandy, Bootsie Barnes, Bobby Durham, Billy James, Byron Landham, Cecil Brooks, Don and CC. Williams, Vinnie Correa, Geary Moore, Eric Johnson, Carrie Jackson, Tony Day, Gil Benson, Jerry Weldon, Little Jimmy Scott, Grassella Oliphant, Bob Devos, Gloria Lynne, Connie Lester, Joe Farnsworth, Pete Chavez, Arthur Harper, Clyde Terril, Patience Higgins, Herbie Morgan, Bruce Williams, Teddy Royal, Greg Bandy, Al Foster, Eric Wyatt and others. Dan has appeared at Augies, 55 Bar, Angry Squire, West End Gate, Village Gate, St.Nick's Pub, Birdland, Smoke, Sweet Basil, Showman's, Fat Cats, Minton's Playhouse, Lennox Lounge, Iridium , the Rainbow Room and others.
Special Guest Artist: Ron Olender  (Alto Sax)

March 13, 2015 7:30 PM
Ticket: $20 reserved $15 senior Citizens