Grease is the Word this Summer at Mainstage!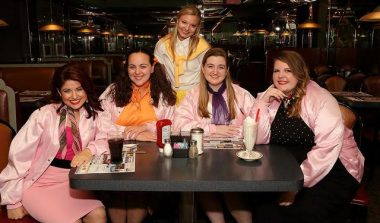 Get ready to do the hand-jive, put on your bobby socks and celebrate teen life in the 1950's with the kids from Rydell High as Grease takes the stage in this Mainstage Center for the Arts' production. This fun-loving musical runs July 22nd – 29th at Camden County College's Dennis Flyer Theatre. It's sponsored by First Bank, The Meadows Diner, Bowman & Company, LLP, Cordasco Financial Group; and Advocare DelGiorno Adult Medicine.
Written by Jim Jacobs and Warren Casey, Grease is one of the world's most popular musicals. It originally ran on Broadway for eight years and has had two revivals, numerous international productions, a movie, and live TV event. The Mainstage production involves nearly 80 local actors and main parts are double-cast.
Packed with familiar songs including Summer Nights, Greased Lightnin', and Beauty School Drop Out, Grease follows a group of teens as they navigate high school love and life. The guys, the T-Birds, are led by Danny Zukko (Jared Camacho and Jake Ropka). His followers include Kenickie (Paul Sigall and Evan Brody , Doody (Collin Correveau and Andrew Ramos-Vassall), Rodger (Nick Flagg), and Sonny (Jacob Long and Lance Raikes).
"It's a unique situation for me to play a character who's familiar to everyone out there. I like working on Danny's different dimensions such as when he plays it cool and holds back. He's also a fun character to portray, especially when he's messing around with the guys," said Camacho.


Ropka agrees, "A good deal of portraying Danny is just silly. It's a great summertime show."


Danny's life is turned upside down when his summer fling, Sandy Dumbrowski (Delaney Burke of Runnemede and Natasha Filipov of Washington Township) ends up being the new girl at school. Upon reuniting, he acts too cool for her. Sandy befriends the Pink Ladies – Rizzo (Jade Chandler of West Deptford and Meghan Kennedy of Deptford), Marty (Ashleigh Neilio of Magnolia and Kayleigh Corn or Washington Township), Frenchie (Kaitlin Bassi of Sicklerville and Laura DiStefano of Bellmawr), and Jan (Kaylee Coratto of Marlton and Lindsey Sowers).
The Pink Ladies advise Sandy about the romance as Danny and Sandy each try to decide if they belong together.
"It's so nice to come back to Mainstage this summer, where I grew up coming to Summer Stage," said Filipov."I'm excited to be part of this show, especially since it's the first time Mainstage has ever done Grease."
Burke said, "In the play, Sandy is stronger than in the movie. I like that about portraying her."
Additional characters include: cheerleader Patty Simcox (Nicole Duffy of Williamstown and Maggie O'Connor), Eugene (Jayson Borenstein) , Cha Cha (Nadia Straciollini and Anaya Colon), Teen Angel (Greg Harr), Miss Lynch (Marissa Wolf), Vince Fontaine (CJ Kish), Sheila (Kiara Johnson), Hero (Jack Granite) and Scientist (Joshua Wiggins)
Grease is directed by Angela Longo, who said, "Grease is such a fun show with fantastic dance numbers and music that everyone enjoys. The cast is having a great time exploring life in the 1950's as they prepare for the performance. We've been talking bout the gender roles and sexism of that time and comparing how society today is much more socially aware.
Presenting Grease today naturally lends itself to satire and we're taking that on a bit. It will be fun for the audience."
Spend some summer nights, or an afternoon, watching Grease. It runs July 22, 28, 29 at 7:30 pm and July 23 at 2 p.m. Ticket prices range from $8 for children under six to $18 for adults. For tickets visit www.mainstage.org. or call (856) 227-3091.