Mainstage Blackwood Pumpkin Festival 2021 - CONTESTS
The 29th Annual Blackwood Pumpkin Festival has been canceled out of consideration for the safety of our patrons, volunteers, vendors, entertainers & staff.  Please stay safe.  We hope to see you the first Sunday of October, 2021.  Stay safe.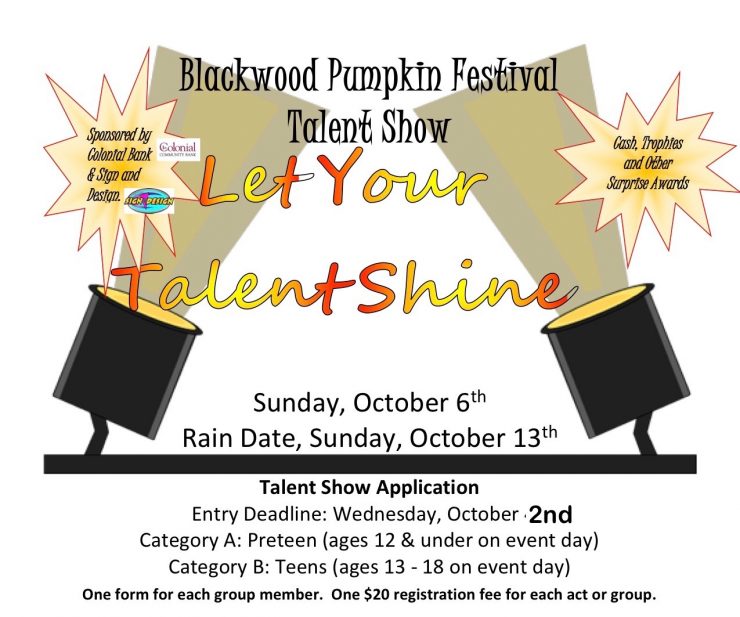 Use this link to register on line for the talent contest and read the contest rules or email pumpkin festival@mainstage.org to be sent an application.
SPONSORED BY:  
Competition Zone A
E.Railroad/Washington Ave.
Harrison Ave.
Cleveland Ave
Garfield Ave
Lincoln Ave.
Prospect Ave
North side of W. Church Street
Competition Zone B
Clifton Ave
West Lake Ave
Central Ave
Elm Ave.
The balance of Pine Ave
Balance of West Railroad
East Railroad
Competition Zone C
New Jersey Ave.
Pennsylvania Ave.
Ohio Ave
Indiana
East Lake Ave to Ohio Ave.
East Church to Ohio
West Church Ave to BHP
The 29th Annual Mainstage Center for the Arts Blackwood Pumpkin Festival is coming your way on October 4, and as a prelude to the event we invite you to enter the House Decorating Contest.  It is so easy just fill out the form that was delivered to the contest area homes on Sept. 14th, and bring it to:  ACADEMY HALL 5:00pm – 8:00pm, Mon – Thurs, call in your entry to  856-302-6485 or email: housecontest@mainstage.org. Entries must be received no later than Thursday, Oct. 3rd. Judging takes place on Saturday, Oct. 3rd.  Homes must be ready to be judged by 10:00 am. Then join us on Sunday, October 4th at approximately 1:00 pm behind the library to cheer each other on as prizes are announced.
PUMPKIN CARVING/DECORATING CONTEST  

RULES AND LOCATION
Bring: A Field Grown Pumpkin ALREADY Carved or Decorated by contestant •
Times: deliver between the hours of 12:00pm-2:00pm  on Sunday, Oct. 6th (rain date: Sunday, Oct. 13th)
Location: Deliver to  Academy Hall, 27 S. Black Horse Pike next to Blackwood Library
Public Showing & Winners Announced: 3:00pm at the Library Parking Lot Stage
(only REAL Field grown CARVED or DECORATED pumpkins will be judged)
COSTUME CONTEST
    sponsored by                                   
Times: 11:30 am or 1:15 pm (Select One) 


Age Range:

 Up to age 12 •
Register: 15 minutes before parade time at the Mainstage Information Booth, located in the center for Railroad Ave.  between to  Games and Rides.
Winners: announced immediately after each contest