Pumpkin Festival 2019 - CONTESTS
CONTEST RULES
Category A: Ages 12 and under at the time of the event
Category B: Ages 13-18 at the time of the event
Talent Contest Information             Sunday, October 7   Rain date: Sunday, Oct. 14
Times will be assigned between: 11:00 – 3:00 pm.
A variety of Prizes will be awarded including: trophies and cash.

1. A contestant may enter only 1 act. Amateur Acts ONLY. Professional entertainers are not eligible for competition
2. Use the link above to register OR pick up at form at Academy Hall 27 S. Black Horse Pike, Blackwood, NJ An entry fee of $20.00 per act MUST accompany each form. NO entries will be accepted with out the $20.00 entry fee. This fee is non-refundable; therefore contestants should be prepared to compete on the rain date as well. Checks should be written to: Mainstage Center for the Arts.
3. All entries forms must be COMPLETELY filled out on line at the above web address or printed out and mailed to: Mainstage Center for the Arts, 27 South Black Horse Pike, Blackwood, NJ 08012 and received by MCA no later than Wednesday, October 3rd.   You can also register in person at The Studio at Mainstage Center for the Arts, 27 S. Blackhorse Pike, Blackwood, NJ 08012 Monday – Thursday, 4:30 – 8:00 pm. E-mails with your assigned time will be sent on Friday, October 5.
4. There will be 2 age categories. Category A: Ages 12 and under, Category B: Ages 13 – 18
5. If your act involves more than one person, the age of the OLDEST member will determine the age category in which your act appears. Group acts are limited to five (5) members only. NO BANDS.
6. We will be unable to provide any instruments or hookups. Pre-recorded high quality CDs, IPODS, or acoustic instruments recommended. Recorded music must be BACKROUND MUSIC ONLY. IT CANNOT HAVE ANY LEAD VOCALS ON THE TRACKS. Microphones will be provided. Performance space is limited to a 16' wide by 8' deep-carpeted platform.  
7. Signatures of ALL persons in the act must appear on the application form. Parent signatures are required for all youth under the age of 18 at the time of the contest.
8. Photo release must be signed by a parent before the contestant performs or as part of the online app.
9. There is a 3-minute time limit with a maximum 2 minute set up time. Please refrain from gift giving (flowers etc.) until the contestant has left the stage.
10. Contestants must remember this is a FAMILY ORIENTED EVENT. An act will be pulled from the stage if organizers believe the act to be in any way inappropriate for this event and disqualified from consideration for any prizes.
11. There will be a panel of judges and their decision is final. ABSOLUTELY NO INFORMATION will be released. (Score sheets will not be shared with contestants)
12. Judging is based but not limited to: Appearance, Stage Presence, Ability and Overall Audience Appeal.
13. There will be a limited number of contestant time slots. All acts will be notified of their competition time slot. Some alternates may also be notified in the event an act(s) fails to show up.
If an act is not ready to go on stage when called upon, that act may be removed from the competition.
SPONSORED BY:  
Competition Zone A
E.Railroad/Washington Ave.
Harrison Ave.
Cleveland Ave
Garfield Ave
Lincoln Ave.
Prospect Ave
North side of W. Church Street
Competition Zone B
Clifton Ave
West Lake Ave
Central Ave
Elm Ave.
The balance of Pine Ave
Balance of West Railroad
East Railroad
Competition Zone C
New Jersey Ave.
Pennsylvania Ave.
Ohio Ave
Indiana
East Lake Ave to Ohio Ave.
East Church to Ohio
West Church Ave to BHP
The 27th Annual Mainstage Center for the Arts Blackwood Pumpkin Festival is coming your way on October 7th, and as a prelude to the event we invite you to enter the House Decorating Contest.  It is so easy just fill out the form that was delivered to the contest area homes on Sept. 15th, and bring it to:  ACADEMY HALL 5:00 and 8:00, Mon – Thurs, call in your entry to  856-302-6485 or email: housecontest@mainstage.org. Entries must be received no later than Thursday, Oct. 4th. Judging takes place on Saturday, Oct. 6th homes must be ready to be judged by 10:00 am. Then join us on Sunday, October 7th at 3:00 pm behind the library to cheer each other on as prizes are announced.

WINNERS FOR 2017
Grand Prize Winner – 42 New Jersey Ave.
Zone A
 Zone B
Zone C



PUMPKIN CARVING/DECORATING CONTEST

 
sponsored by:

RULES AND LOCATION
Bring: A Field Grown Pumpkin ALREADY Carved or Decorated by contestant •
Times: deliver between the hours of 12:00pm-2:00pm  on Sunday, Oct. 7th (rain date: Sunday, Oct. 14th)
Location: Deliver to  Academy Hall, 27 S. Black Horse Pike next to Blackwood Library
Public Showing & Winners Announced: 3:00pm at the Library Parking Lot Stage
(only REAL Field grown CARVED or DECORATED pumpkins will be judged)
AND THE WINNERS FOR THE 2017 FESTIVAL WERE:

COSTUME CONTEST
    sponsored by                                    
                                 

    

Times: 11:30 am or 1:15 pm (Select One) 


Age Range:

 Up to age 12 •
Register: 15 minutes before parade time at the Mainstage Information Booth, located in the center for Railroad Ave.  between to  Games and Rides.
Winners: announced immediately after each contest

AND THE  2017 WINNERS WERE:
PUPPY CONTEST

IS HAPPY TO SPONSOR THE

CAKE DECORATING CONTEST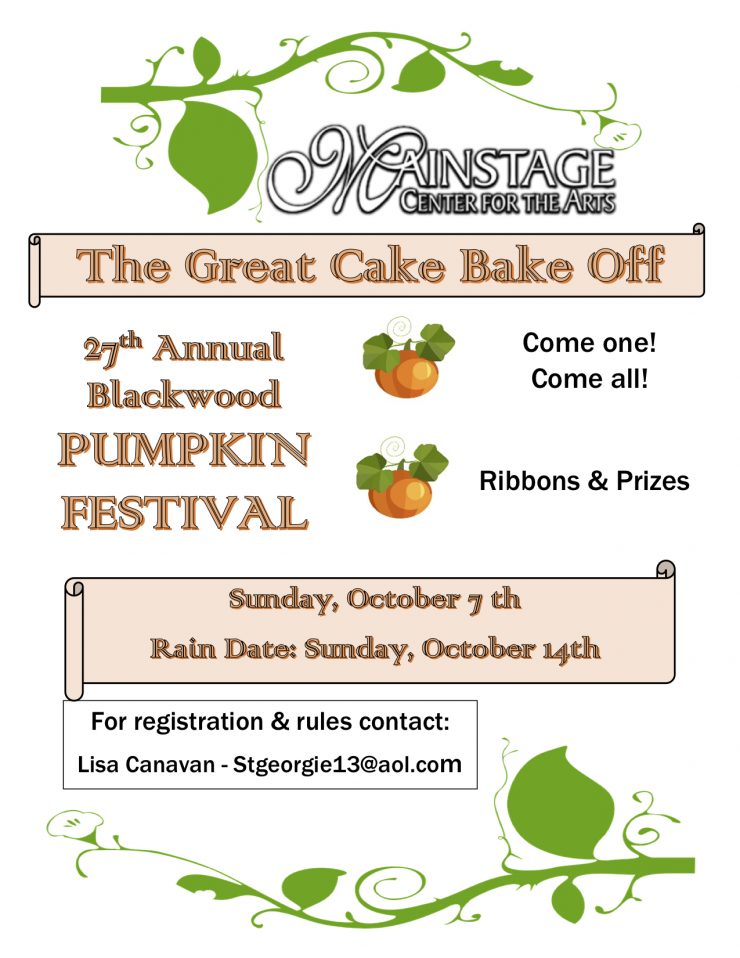 Contest Rules
for the 27th Annual Pumpkin Festival
This contest is open to all amateur bakers.
Entries are to be prepared off site and brought to the 1st floor of the MCA Academy for the Arts Building at 27 S. Black Horse Pike between 11:00am and 2:00pm on the day of the event.  
Entry forms will be completed at check-in. Items must be entered in the name of the person who made them.
Participants will be assigned a number so entries can be judged anonymously.
Entrant's name, e-mail address and phone number must be taped it to the bottom of serving dishes.
The recipe or list of ingredients must be included with each entry for allergy and safety purposes.
For Safety Considerations, no cream, custard, or other entries that use cream or other dairy products as a significant part of the recipe will be accepted, as there will be no refrigeration available at this event. Judges will err on the side of their safety and your cake will not be tasted.
Entries must yield at least three (3) servings for judges to sample.
Participants must provide serving utensil(s) for their entries, if needed.
Samples will be self-served by judges. Organizers will provide plates and eating utensils for the Judges.
Judging will occur between 2:00 pm and 2:30pm. Winners will be announced on the MCA stage behind Academy Hall at 3:00pm.
Leftovers, serving dishes and utensils may be picked up any time after the winners are announced.
Cakes will not be sold or distributed to anyone except the judges by MCA coordinators.
Prizes
1st place ribbon, Sponsor's gift                
2nd place ribbon, Sponsor's gift                
3rd place ribbon, Sponsor's gift              
Judging:
The judge's panel will consist of local pastry professionals.
Judges will not know the contestant names.
Entries will be judged on flavor, texture, characteristics, frosting and creativity.
Judges will sample and score each entry independent of one another.
The judges' decisions are final.
Participants need not be present to win.
AND THE 2017 WINNER WAS: