Summer Stage 2019 - VIDEO / FILM PRODUCTION CAMP - entering 8th - 12th
This video/film camp is designed to take students through the entire process of creating a short film. From screenwriting and storyboarding to shooting and editing. Participants will create their own short films to be premiered on Friday, August 2nd at 7:00 pm. Throughout the summer, students will have the opportunity to express their creativity by directing various film shoots and experimental projects. Documentary and interview skills will also be learned.  In addition, students will have the opportunity to use advanced editing programs such as Final Cut Pro.
VIDEO FILM PRODUCTION
For those entering 8th – 12th Grades
 Held on the Blackwood Campus of Camden County College
$595 entire 7 weeks plus $25. activity fee
T-shirt included
Monday – Friday      9:00 – 3:00        
(Before and aftercare services available.  Read about Stage Key below)
June 18 (Tuesday) – August 2
Film Premiere – 8/2     7:00 pm 
EARLY BIRD DISCOUNT SCHEDULE:
Note: Early Bird Discount ONLY apply when payment is made in full at time of registration
$550 when paid in full by April 1
$580. when paid by May 1
No discounts after May 1
* Interview & Letter of Reference Required
Limited Class Size – Register Early!
Interviews are required and will be conducted during the month of May.  Dates to be announced. A character reference letter is required by or before the interview.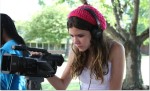 "This has been a great experience. It's a lot of fun to watch your idea become
a film. Our director and staff help you along throughout the  
   process. I've learned so much about things including camera shots, angles, and editing. I'm really excited for the premiere to show others my film.  I hope they appreciate all the hard work we've put into our films." 
                                                                                  2014 Film Participant

STAGE KEY is a before and after care program (latch key) designed to assist working parents as you work to fit your child's love for the arts into your busy work schedule.  STAGE KEY is provided as a service.  We are NOT able to  break this program down into any further increments.  There are NO Early Bird discounts for Stage Key.
7 Week Stage Key Program Fee
7:30 am – 9:00 am  – $210
3:00 pm – 6:00 pm – $315
Both am and pm – $390
REGISTER HERE
https://mainsage.wufoo.com/forms/zwt6qgp15t3hvk/