Summer Stage 2019 - APPRENTICE - entering 4th & 5th
The Apprentice Program is designed to broaden your child's interest in the world of theatre through the magic of music, dance, and creative dramatics. Each day will be spent equipping the children with all of the tools necessary to succeed both in our Children's Theatre Program as well as in their school drama clubs.  Our instructors come highly qualified and excited to spread their love of the art to each child.  The Apprentice Program will culminate with a performance on Sunday Evening, Aug. 4th 7:00 pm. 
APPRENTICE
HELD AT THE Academy Hall 
27 S. Black Horse Pike
Blackwood, NJ 
* Entering 4th & 5th grade
* $460 (for entire 6 weeks) & $25 activity fee
T-shirt included
* M – F   9:30 – 12:30
(Read about Collaboration Station and Stage Key for an extended day experience)
*June 24 – August 2
     PERFORMANCE: Sunday Evening, August 4th  7:00 pm
Early Bird Discounts
Discounts only apply when registration is paid in full
$435 when paid in full by April 1
$445 when paid in full by May 1
No Discounts after May 1
FULL DAY EXTENSION PROGRAMS 
COLLABORATION STATION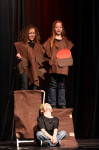 An afternoon program available to those entering 4th through 5th grade to complement the morning  APPRENTICE programs. A chance to "dabble"  in all types of performing, visual and creative arts.  A great way to keep those creative energies flowing while trying new things.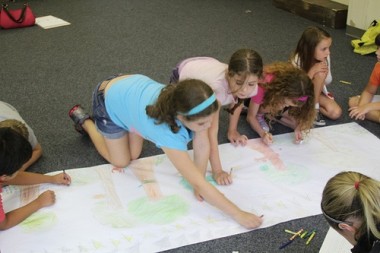 Adventures can include but are not limited to crafts, script writing, theatre games, puppetry, pantomime,  music and more.     Bring your lunch and ALL ABOARD! 
COLLABORATION STATION                   
Entering 2nd – 5th Grade
$145 when added to one Kids Stuff 3-week session, 
 $195 when added to a total of 6 weeks – Apprentice or  Kids Stuff Double session
  Monday – Friday     12:30 – 3:30
EARLY BIRD DISCOUNTS
Discounts only apply when registration is paid in full.
          Paid in full by April 1:  1 session $120   2 sessions  $180
       Paid in full by May 1:   1 session $130     2 sessions $190
  
                                          Stage Key is a before and after care program (latch key) designed to assist working parents as you work to fit your child's love for the arts into your busy work schedule.  Three and six-week program fees are for those children attending MT Kidz, Apprentice, and Collaboration Station programs and is available in both our Blackwood and Sewell locations.  There are NO Early Bird discounts for Stage Key.
6  Week program fee
7:30 am – 9:30 am only  – $180
3:30 pm – 6:00 pm only – $270
Both am and pm – $375
REGISTER HERE
https://mainsage.wufoo.com/forms/z1q4miyq1gfmbu9/