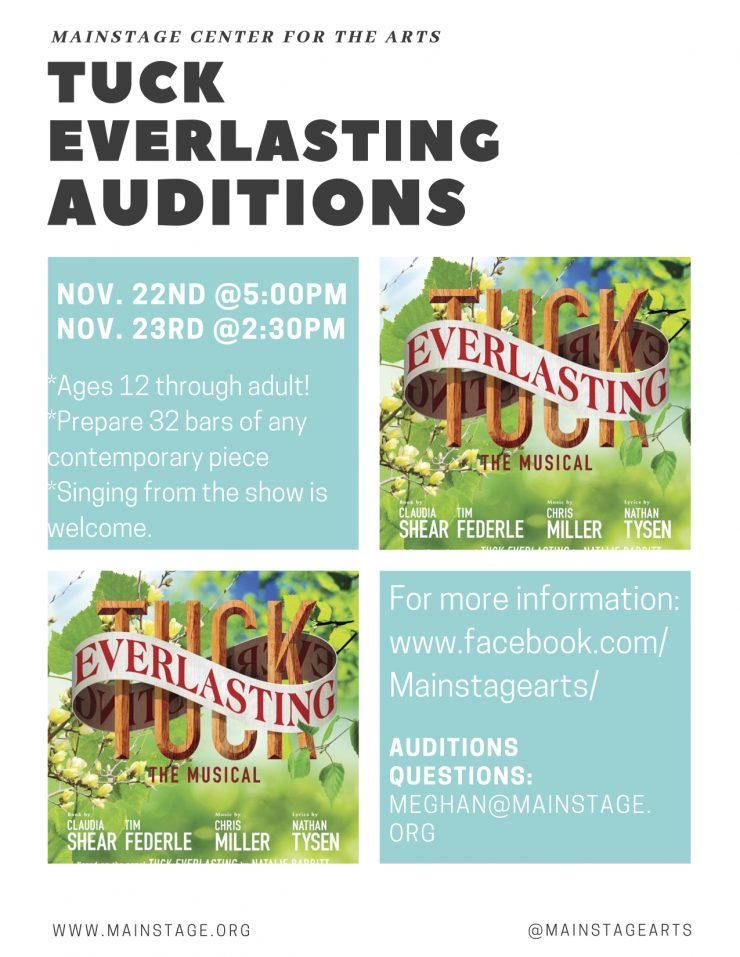 Casting "Tuck Everlasting." Synopsis: What would you give for everlasting life? When Winnie goes looking for adventure and meets a family with a fabulous secret, their chance encounter will change them all forever. Based on the bestselling novel, this musical explores eternal love, never-ending life, and what it means to truly feel alive.
Auditions: November 22, 2019 at 5p
Callbacks(by invite): November 23, 2019 at 2:30
Address: 27 S Black Horse Pike, Blackwood NJ 08012
Please prepare 32 bars of any contemporary piece, singing from the show is welcome! 10th graders and under, musical cuts from the show will be provided. There will not be an accompanist provided, there will be a stereo and aux cord provided, please bring your own music. Come in comfortable dance clothes!
If you can't make auditions or have any questions, email meghan@mainstage.org
WINNIE FOSTER - Female, to play 11. Our story's protagonist who has recently lost her father. Unhappy with how overprotective her mother is, and longing for adventure, she runs away from home and meets the Tuck Family. Soprano, RANGE A3-E5 
JESSE TUCK - Male, to play 17. The youngest of the Tuck family, he is eternal youth personified. Jesse is the most optimistic of the Tuck family, and enjoys immortality. When he meets Winnie, he believes he has finally found someone who enjoys adventure and life the same way he does, and offers her the choice to become immortal. Tenor, RANGE F3-C5 
MILES TUCK - Male, to play 23. Jesse's older brother, he is bitter and resents his immortality, as it cost him his family. His natural sweetness has been shut away, and he is doomed to live forever with regret. Baritenor, RANGE F3-C5 
MAE TUCK - Female, 40's. The matriarch of the Tuck family, she is beautiful and wise. She has come to terms with her family's immortality and does her best to find the joy and humor in their situation. Mezzo-Soprano, RANGE A3-E5 
ANGUS TUCK -Male, 40's. The patriarch of the Tuck family. He is an indulgent father, a fond (if forgetful) husband, but a true soul with a deep well of love and profound understanding of the life around him. Tenor, RANGE E3-B4 
MAN IN THE YELLOW SUIT- Male, 60's. Creepy and persuasive, the nefarious leader of a traveling carnival, obsessive in his search for the fountain of youth, and the antagonist of our story. Tenor, RANGE G3-B4 
CONSTABLE JOE - Male, 50's. Head of the police force in Treegap. Seemingly a buffoon, his simple manner belies a sharp wit and kind heart. Tenor, RANGE F3-B4 
HUGO - Male, to play 17. Constable Joe's sidekick and deputy in training. Painfully shy, awkward and goofy; but smart and eerily observant. Tenor, RANGE G3-C5 
BETSY FOSTER - Female, 30's. Winnie's mother, a widow who has recently lost her husband. A gentlewoman who has been broken by grief, fear, and loss. Brave and unbending in the face of adversity when her daughter goes missing. Mezzo-Soprano, RANGE A3-E5 
NANA - Female, 60's. Winnie's loving grandmother, and Betsy's mother, a mischievous old woman who doesn't mince her words. Comedic timing necessary. Alto, RANGE A3-C#5 
Featured Dancers/ Ensemble (New Hampshire Town Members, Fair Performers/Vendors, etc.) 
Swings/Understudies – Learn ensemble tracks, songs, and choreography to swing in during rehearsals and necessary performances.