Auditions: True Villians, The Musical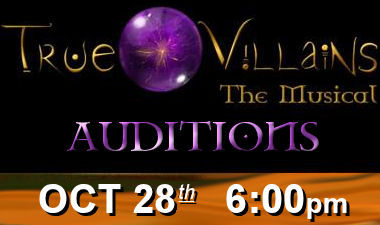 Ladies and gentlemen, after six years, it's finally time. Mainstage Center for the Arts in association with Aftershock Entertainment are proud to present; True Villains – The Musical! It's back, and it's better than ever. We're looking for a large cast of all ages to come be a part of this hilarious original musical!
PRODUCTION DATES
January 27th and 28th, at Camden County College
AUDITIONS
Auditions will be held at Academy Hall, 27 South Black Horse Pike, Blackwood, NJ 08012, on Friday, October 28th, from 6:00PM-10:00PM. You will not need to be present the whole time.
If you would like, you can print out an audition form to fill out ahead of time and bring with you to auditions.  Download the Audition Form here.
WHAT TO PREPARE
- 16-32 bars of a musical theatre piece, and bring a backtrack (CD, MP3 Player or Phone) as there will NOT be an accompanist present.
- A brief comedic monologue.
- Afterwards, you will be put with a block of people for a dance audition as well, so be prepared to move!
CALLBACKS
Callbacks will be held Sunday, October 30th, from 12:00PM until they're finished.
REHEARSALS
Rehearsals will begin in November, and be on the evenings of Sunday, Monday, Thursday and Friday. Not every cast member will be called at every rehearsal. A projected schedule will be available at auditions.
SHOW INFORMATION
True Villains is a typical tale of good versus evil set in a fantastical world. The difference – we get to see evil's point of view. Follow the adventures of Sebastian, a hero-turned-villain, and a whole cast of colorful bad guys to fall in love with.
ROLES TO AUDITION FOR (all roles are open!)
Sebastian - Baritone/Tenor - A bright and peppy adventurer with questionably loose morals. Resourceful, energetic, passionate.
Xaneth - Baritone - A heartless, carefree demon in charge of random acts of evil. Witty, devious, egotistical.
Elia - Mezzo - A kindly, lady-like necromancer who delights in animating the dead. Friendly, caring, murderous.
Mia - Mezzo - A young girl who always sees the brightest possible side of life. Optimistic, adorable, clever.
Beatrice - Soprano - A powerful sorceress with a superiority complex and a score to settle. Deceitful, bitter, psychotic.
Gray – Baritone/Bass - A warrior of God, hell bent on ridding the world of evil. Stoic, skilled, stoic again.
Tom - N/A - A mute golem, in the service of his charge, Mia. Big, intimidating, protective.
Skeleton King and Queen – Baritone, Alto/Mezzo - Monsters in Xaneth's dungeon- in charge of welcoming new victims. Smooth, cool, grim.
Priest - Alto/Mezzo - A devout priest in service of a small town. Righteous, well-meaning, skeptical.
Sindal - N/A - A female wizard, determined to make the world a better place. Reasonable, mostly, quick.
Darak - N/A - A big, burly knight, determined to smite all in his path, if it needs smiting or not. Dimwitted, courageous, justice.
Ensemble – All – Vile monsters, holy guards, innocent townsfolk, dancing fire and water, and everything in between.
Staff;
Director/Music Director – Joshua Kurtz
Choreographer – Hillary Kurtz
Assistant Director – TBA
Stage Manager – TBA