Mainstage Appoints Erica Scanlon Harr as Producing Artistic Director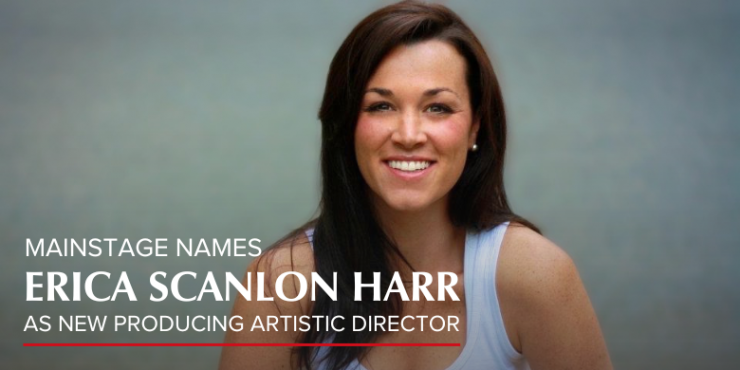 Blackwood, NJ — July 1, 2023 — Mainstage Center for the Arts, Gloucester Township's leading non-profit educational performing arts organization, is thrilled to announce Erica Scanlon Harr as the new Producing Artistic Director. This significant milestone aligns with the organization's 35th anniversary and marks an exciting new chapter for Mainstage Center for the Arts.
Erica Scanlon Harr, an esteemed Mainstage alumni, brings an impressive array of accomplishments and expertise to her new role. She is widely recognized as the former Miss New Jersey 2004 and has established herself as a highly skilled performer and director within the entertainment industry. Erica holds a Bachelor of Arts in Musical Theater from West Virginia Wesleyan College and a Master of Fine Arts in Acting from The New School for Drama.
Erica's professional journey has taken her to stages around the world, where she has performed in off-Broadway shows and as an entertainer with Disney Cruise Lines. Her diverse experiences have nurtured her artistic sensibility and deep understanding of the performing arts.
"This is an exciting and emotional opportunity for me, as Mainstage is the program I grew up in. I spent my most wonderful summers singing and dancing in the Glen Landing cafeteria and the Dennis Flyer Theater, made my very best friends, and even met my husband. To say that Mainstage impacted my life would be a gross understatement, and I'm honored and humbled to help continue the legacy," says Erica.
Over the past year, Erica has had the privilege of shadowing Mainstage Center for the Arts' Found and current Artistic Director, Ed Fiscella. This mentorship has allowed Erica to gain insight into the organization's operations, artistic vision, and commitment to the community. Erica's dedication and passion have been evident throughout this transitional period, ensuring a smooth handover and a seamless continuation of Mainstage's legacy.
As Erica assumes the role of Producing Artistic Director, Ed Fiscella will remain an integral part of the Mainstage Center for the Arts team, actively contributing to the organization's mission that he founded 35 years ago. Ed's expertise and unwavering dedication to the arts will continue to guide Mainstage toward a vibrant and successful future.
Alongside Erica's appointment, Mainstage Center for the Arts experienced another significant leadership change last year with the appointment of Sarah J. Gafgen as Managing Director. Sarah took over the role from Joe Bretschnieder, who retired after 34 years of dedicated service to the company. This leadership duo will bring fresh perspectives and a shared vision to drive Mainstage into the future.
In addition to her role at Mainstage, Erica currently serves as the Director and Choreographer for Moorestown High School's theater program. Her commitment to nurturing young talent and inspiring the next generation of performers aligns perfectly with Mainstage's core values.
Mainstage Center for the Arts is thrilled to celebrate its 35th anniversary with such pivotal leadership transitions. The organization remains committed to fostering creativity, inclusivity, and artistic excellence, providing exceptional educational programs and performances that enrich the lives of individuals within the community.
About Mainstage Center for the Arts:
Mainstage Center for the Arts, the parent program for Summer Stage, the Studio at Mainstage, the Harmony Show Choir, and the Encore Show Choir, is a 501 © (3) non-profit organization committed to providing a creative, vibrant, and nurturing environment for youth and adults.