Pumpkin Festival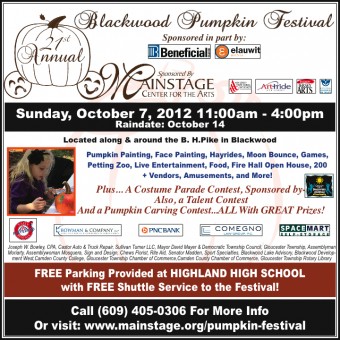 Ah, fall – time for pumpkins, cider doughnuts, leaves splashed in color, and the 21st Annual Blackwood Pumpkin Festival sponsored by Mainstage Center for the Arts, Beneficial Bank, South Jersey Mom, Comegno Law, and others. This year's event takes place Sunday, October 7, 2012, 11 a.m. to 4 p.m.(raindate: Oct. 14th) in and around the Blackwood Library, 15 S. Black Horse Pike, Blackwood, NJ. The festival draws 10,000 people each year to enjoy food, games, music, shopping among 200 vendors, and four stages of entertainment. Activities include pumpkin painting, hayrides, amusement rides, Jump for Joy moon bounce, a pumpkin carving contest, pony rides, face painting, pumpkin painting, a costume contest, and more.
"After such a long-hot summer, the Pumpkin Festival is a great way to celebrate the joys of the fall season," said Anne Marie Weaver, Director of Special Projects, Mainstage Center for the Arts. "We look forward to welcoming and entertaining the thousands of families who make it an annual tradition."
Spaces are still available.  If you are interested in being a vendor at the 21st Annual Blackwood Pumpkin Festival just click on the appropriate link listed below SEE ALSO.
Be sure to take advantage of the Vendor Promotional Coupon Offering.  A great way to get buyers to your table.
All proceeds benefit Mainstage Center for the Arts, a non-profit organization committed to providing affordable, quality arts education and entertainment for the South Jersey Community.
Talent Contest
Mainstage Center for the Arts will host a Talent Contest for amateur acts ages 4 -10 and 11-18 at the 21st Annual Blackwood Pumpkin Festival, sponsored by Beneficial Bank and Elauwit Media, Sunday, October 7. Performance times will be assigned between 12 and 3 p.m . A variety of prizes will be awarded including trophies and cash. For entry forms and contest details, click and printout below.  The entry fee is $15 per act, limited to five members, no bands. All entry forms/fees must be received by Mainstage Center for the Arts Thursday, October 3rd.  Please print out rules and registration form below.
House Decorating Contest


PNC Bank is sponsoring a brand new look to the Blackwood Pumpkin Festival House Decorating Contest.  More Winners, More Prizes, More friendly competition.  If you live in any of the zones listed on the flier we hope you will join us for some good old fashion festival competition fun.
House Decorating Registration Form
Volunteers

WE ARE ALWAYS IN NEED OF VOLUNTEERS FOR THIS EVENT!  Please click on the Volunteer Info link below to learn how you can be involved and then e-mail your response to: 
Suzannekarcher@comcast.net,
Val_Ayelsworth@verizon.net
Past Festivals
The latest information and photos from past festivals is available here.
See also:
Vendor Application – Closed
Food Vendor Application – closed
Vendor Coupon Book Offer – closed
Vendor Site Map