Pumpkin Festival 2014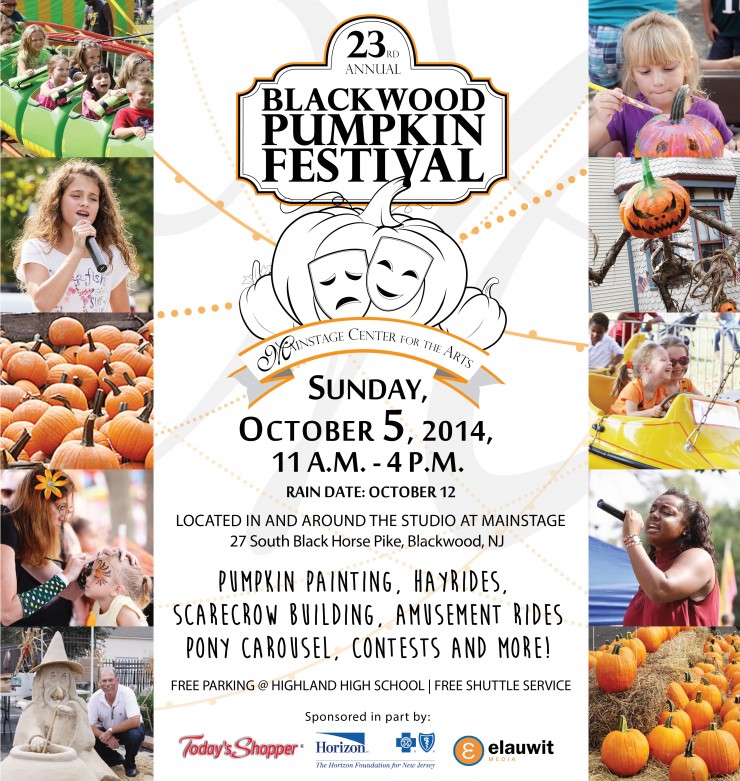 23rd ANNUAL
Mainstage Center for the Arts
Sunday, Oct. 5   11 -4
(Raindate:  Sunday, Oct. 12th)
Sponsored by

Ah, fall – time for pumpkins, cider doughnuts, leaves splashed in color, and the 23nd Annual Blackwood Pumpkin Festival sponsored by Mainstage Center for the Arts, Beneficial Bank, and others. This year's event takes place Sunday, October 5, 2014, 11 a.m. to 4 p.m.(raindate: Oct. 12th) in and around The Studio at Mainstage, 27 South Black Horse Pike, Blackwood, NJ. The festival draws 10,000 people each year to enjoy food, games, music, shopping among 200 vendors, and four stages of entertainment.
Activities include pumpkin painting, hayrides,amusement rides, Scarecrow making, bounce houses, a pumpkin carving contest, face painting, a costume contest, talent contest and more.
"After such a long-hot summer, the Pumpkin Festival is a great way to celebrate the joys of the fall season," said Anne Marie Weaver, Director of Special Projects, Mainstage Center for the Arts. "We look for-ward to welcoming and entertaining the thousands of families who make it an annual tradition."
All proceeds benefit Mainstage Center for the Arts, a non-profit organization committed to providing affordable, quality arts education and entertainment for the South Jersey Community.

VENDORS:
We are still accepting vendors for the 23rd Annual Blackwood Pumpkin Festival. Please print out the appropriate form and send it in quickly as spaces are filling fast.
OUR VENDOR SPACES ARE CURRENTLY SOLD OUT!!!
Please e-mail:Summer@mainstage.org if you wish to be put on a waiting list in the event openings occur or to be considered for next year.  Thank you for your support.  We look forward to seeing you at the event.
Volunteers: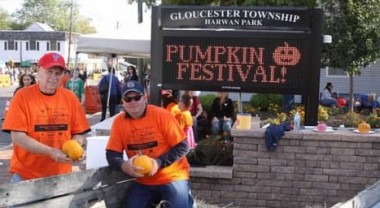 WE ARE ALWAYS IN NEED OF VOLUNTEERS FOR THIS EVENT JUST CLICK ON THIS LINK TO REGISTER! YOU WILL BE GLAD THAT YOU DID:

BRAND NEW 
Scarecrow Making Center
Sponsored by

This new section of the event
 will be located in Harwin Park
(next to Rite Aid Parking Lot.)
Contests
HOUSE DECORATING
PUMPKIN CARVING/DECORATING
TALENT
COSTUMES
(Read below for more details).
HOUSE DECORATING
SPONSORED BY

Competition Zone A
Glenn Ave,
Morris Ave
Marshall Ave.
West Railroad Ave up to Glenn
Pine Ave up to Glenn
Lakeside Ave
Competition Zone B
Clifton Ave
West Lake Ave
Central Ave
Elm Ave.
The balance of Pine Ave
Balance of West Railroad
East Railroad

Competition Zone C
New Jersey Ave.
Pennsylvania Ave.
Ohio Ave
Indiana
East Lake Ave to Ohio Ave.
East Church to Ohio
West Church Ave to BHP
The 23rd Annual Mainstage Center for the Arts Blackwood Pumpkin Festival is coming your way on October 5th, and as a prelude to the event we invite you to enter the House Decorating Contest sponsored by PNC Bank and Mainstage Center for the Arts. It is so easy just fill out the form, and bring it to: CHEWS FLORIST 10-4, ACADEMY HALL 4:30 and 8:00, Mon – Thurs, call in your entry to 1- 855-936-2467 ext. PUMPKIN FESTIVAL or email: housecontest@mainstage.org. Entries must be received no later than Wed. Oct. 2nd. Judging takes place on Saturday, Oct. 4th beginning at 10:00 am. Then join us on Sunday, October 5th at 3:15 pm behind the library to cheer each other on as prizes are announced.
Exciting  NEWS!!!!!
Talent Show 2014 will be sponsored by:

TALENT CONTEST RULES
Talent Contest Information
Sunday, October 5 Rain date: Sunday, Oct. 12
Times will be assigned between: 11:30 – 3:00 pm.
A variety of Prizes will be awarded including: trophies and cash.
1. A contestant may enter only 1 act. Amateur Acts ONLY. Professional entertainers are not eligible for competition
2. Entry forms can be found on line at link below. An entry fee of $15.00 per act MUST accompany each form. NO entries will be accepted with out the $15.00 entry fee. This fee is non-refundable; therefore contestants should be prepared to compete on the rain date as well. Checks should be written to: Mainstage Center for the Arts.
3. All entries forms must be COMPLETELY filled out on line at the above web address or printed out and mailed to: Mainstage Center for the Arts, 27 South Black Horse Pike, Blackwood, NJ 08012 and received by MCA no later than Wednesday, October 1st. You can also register in person at The Studio at Mainstage Center for the Arts, 27 N. Blackhorse Pike, Blackwood, NJ 08012 Monday – Thursday, 4:30 – 8:30 pm. E-mails with your assigned time will be sent on Friday, Oct. 3rd.
4. There will be 2 age categories. Category A: Ages 4 – 10, Category B: Ages 11 – 18
5. If your act involves more than one person, the age of the OLDEST member will determine the age category in which your act appears. Group acts are limited to five (5) members only. NO BANDS.
6. We will be unable to provide any instruments or hookups. Pre-recorded high quality CDs, IPODS, or acoustic instruments recommended. Recorded music must be BACKROUND MUSIC ONLY. IT CANNOT HAVE ANY LEAD VOCALS ON THE TRACKS. Microphones will be provided. Performance space is limited to a 16' wide by 8' deep-carpeted platform.
7. Signatures of ALL persons in the act must appear on the application form. Parent signatures are required for all youth under the age of 18 at the time of the contest.
8. Photo release element of the application must be checked and signed by applicant and parent.
9. There is a 3minute time limit with a maximum 2 minute set up time. Please refrain from gift giving (flowers etc.) until the contestant has left the stage.
10. Contestants must remember this is a FAMILY ORIENTED EVENT. An act will be pulled from the stage if organizers believe the act to be in any way inappropriate for this event and disqualified from consideration for any prizes.
11. There will be a panel of judges and their decision is final. ABSOLUTELY NO INFORMATION will be released. (Score sheets will not be shared with contestants)
12. Judging is based but not limited to: Appearance, Stage Presence, Ability and Overall Audience Appeal.
13. There will be a limited number of contestant time slots. All acts will be notified of their competition time slot. Some alternates may also be notified in the event an act(s) fails to show up.
If an act is not ready to go on stage when called upon, that act may be removed from the competition.

PUMPKIN CARVING/DECORATING
CONTEST

| | |
| --- | --- |
| | SPONSORED BY |
RULES AND LOCATION
Bring: A Field Grown Pumpkin ALREADY Carved or Decorated by contestant •
Times: 12:00pm-2:00pm •
Location: Harwan Park (next to Rite Aid on Black Horse Pike) •
Public Showing & Winners Announced: 3:30pm at the Library Parking Lot Stage
(only REAL Field grown CARVED or DECORATED pumpkins will be judged)

COSTUME CONTEST


Sponsored by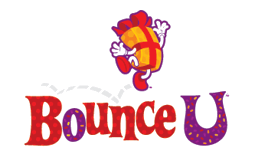 Blackwood, NJ
Times: 11:30 am or 1:15 pm (Select One) •
Age Range: Up to age 12 • Register: 15 minutes before parade time at the Mainstage Information Booth, located between Johnson's Amusement Rides, and the Petting Zoo in the Center of  Railroad Ave.
The latest information and photos from past festivals is available here.
                                         The Blackwood Pumpkin Festival is also sponsored in part by