School of Dance - Class Descriptions
CLASS DESCRIPTIONS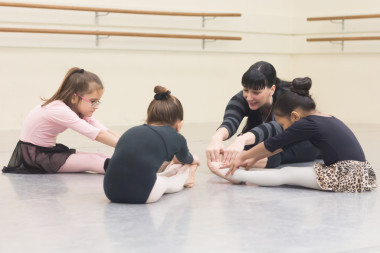 MUSICAL THEATER PRODUCTION (MTP)- ROTATING EVERY 4 WEEKS BETWEEN, SINGING, DANCING AND ACTING- AGE LEVELS INCLUDE BROADWAY BABIES, KIDZ IN THE BIZ AND BROADWAY BOUND. BECOME WELL ROUNDED IN MUSICAL THEATER. RECITAL PIECE WILL INCLUDE SINGING W/MICS, ACTING AND DANCE.
ITTY BITTY BALLET/ TAP – PRE-DANCE WITH A BROADWAY FLAIR. BASIC TECHNIQUE IS TAUGHT IN THIS FUN, IMAGINATIVE CLASS, GAUGED TO INSPIRE CREATIVITY WHILE LEARNING BASIC BALLET AND TAP MOVEMENTS.
KINDER HIP HOP– BEGINNING HIP HOP SKILLS AND RHYTHM  ARE TAUGHT THROUGH A FUN CREATIVE ENVIRONMENT, USING PROPS, GAMES AND IMAGINATION.
MOMMY & ME– FOR OUR YOUNGEST DANCERS, THIS CLASS USES IMAGINATION, PROPS, SONGS & TUMBLING TO EXPLORE THE BODY AND ITS MOVEMENTS THROUGH SPACE, WHERE MOMMY AND DANCERS CAN LEARN TOGETHER.
ACRO/ FLEXIBILITY- BALANCE THE BODY AND BECOME A WELL ROUNDED DANCER IN A CLASS MEANT TO CHALLENGE ALL LEVELS OF DANCERS TO BECOME STRONGER AND MORE FLEXIBLE. TUMBLING, BALANCE AND FLEXIBILITY TRICKS ARE ALL TAUGHT INTEGRATING IN DANCE TECHNIQUE.
BOYS HIP HOP/ BREAKDANCING- LEARN THE SKILLS, TIMING, RHYTHM AND STRENGTH TO DEVELOP THIS STREET FORM OF DANCE. THIS BOYS ONLY CLASS S DESIGNED TO CREATE A SPACE THAT BOYS FEEL COMFORTABLE TO DEVELOP AS DANCERS.
TEEN CLASSES-  TEEN TECHNIQUE CLASSES ARE FOR THE LESS ADVANCED DANCER TO DEVELOP THIER SKILLS WITH DANCERS THIER OWN AGE AND ABILITY LEVEL.